What a fantastic Fall it has been! We've been keeping very busy, both in work and at home, and it's been a great season to freshen things up everywhere!
First up, our Toasty Toes Update…
Our Toasty Toes Sock Drive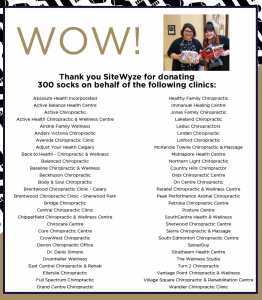 We had a few VERY special clients help us with our pledge to the Alberta College and Association of Chiropractors to help them with their Toasty Toes Sock Drive.  Why socks? Well, aside from it being the most needed (and least donated) item according to the United Way, SiteWyze has over 160 Chiropractic clinic clients all across Western Canada, and it only made sense to chip in!
A huge thank you to Paula Fedoruk and team from Abrasive Blast and Paint, Darren Bondar and team from Spirit Leaf, Al Noor and team from Calgary & Red Deer Peterbilt, Beth Henry and team from Prairies to Peaks, James Henry from Jaxxen transport (yup… I wrangled family too!!), and from our team at SiteWyze! In total, we gathered 367 pairs of socks!
Great job guys!
Next up, our first AGM with the Chiropractor's Association of Saskatchewan
September was a beautiful month for the drive our to Saskatoon for our first Chiropractic AGM! We were very excited this summer to announce our partnership with the CAS, offering all Association members free website setup as a continuation of the same offer we currently run in BC, AB, MC and ON. Now, our Western family is complete!
A HUGE thank you to Tracy, Mona and Doug from the Association Head Office, for making us feel so welcome. And congrats to our very lucky member who took home the very popular Nespresso Expert machine (a very talked about little toy! Ha!)
We can't wait for next year!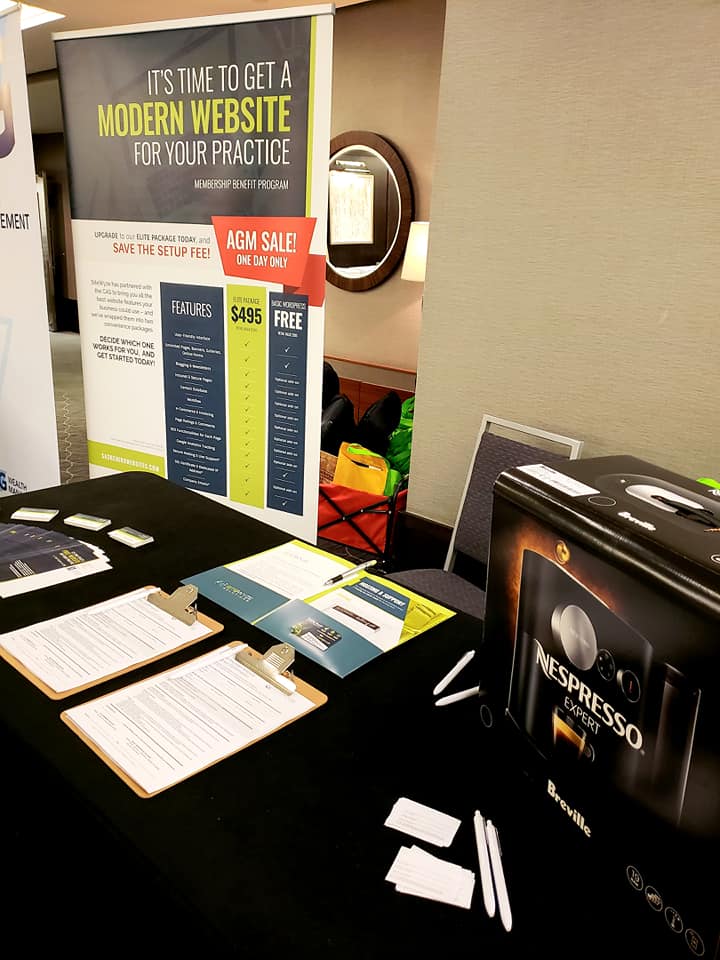 Welcome to the Family!
We are so grateful for all the clients in our SiteWyze family, and it's even awesome-er (a real word ;o) when we get to expand our family even more! In the past few months we've been so grateful to be able to work with existing clients on their new sites, as well as bring in some new comers! Here are some of the great projects we've been able to work on recently…
And last, but in no way least…
We've expended our little family this past month! Welcome Mr. Bentley Vanderhuge (I promise, he'll grow into his name!). He's a Cane Corso, and is growing very fast. Next step for our family, move into a space with more land! The race is on!
Reach out…
If you have any questions about anything you've seen on our site, or if you'd like to learn more about our website and online marketing services, please email or cll me directly – I'm happy to help!
Jenn@sitewyze.com
780-702-2706, ext 221