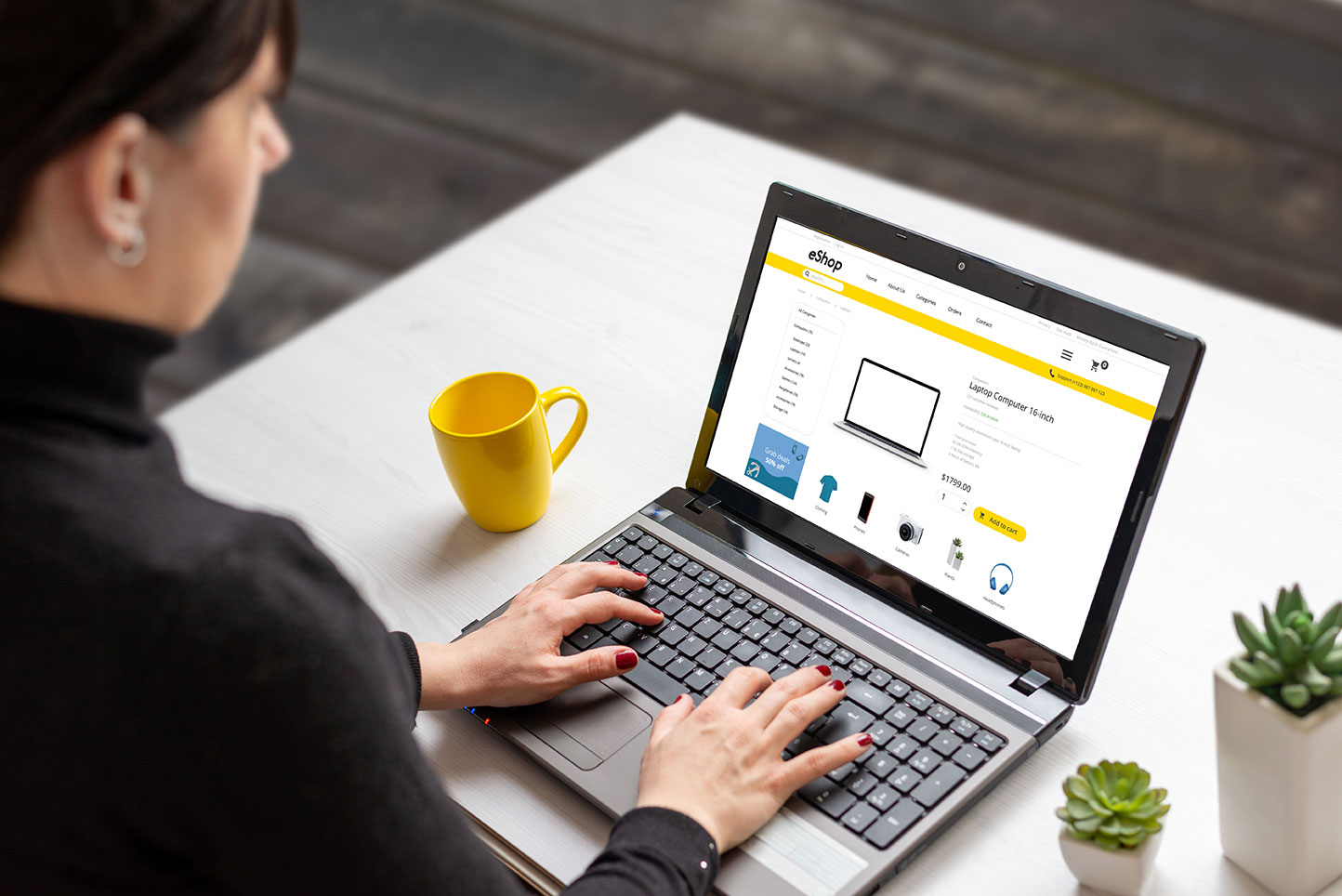 Getting your eCommerce product pages right can increase your store's credibility and trustworthiness, pre-empt customer queries, and boost your sales. So, what should you include on your eCommerce product page? Read on to see our top tips for creating good eCommerce product pages!
Best Practices for ECommerce Product Pages
Prioritize the Product Imagery
Your product images are likely going to be the first impression your potential customers have of your products. It is crucial that you get product imagery right.
Your product imagery should be professional-quality and should highlight all the features and functionality of your eCommerce product(s). The look and feel of your product imagery should be as consistent as possible. Keep the product photography size, background, shape, and ratio of product to background the same or similar across all your products, to the extent possible.
If you are selling apparel or wearables, you should consider product photography or videos showing lifestyle shots and/or how the products fit. Generally, the more information you can show through your photography, the better. So, feel free to include images of the product in assorted colours and sizes.
Finally, your product imagery should be optimized for your website. Ensure that your product photos and videos do not slow down your pages. There is more on this in the next point.
Page Speed Must Be Up to Par
It's 2022 – your website needs to load quickly. If it does not, your website's poor performance will turn off potential customers.
Slower page load speeds contribute to:
Increased exit rates (the number of users exiting your website);
Increased bounce rates (the number of users clicking the 'back' button before engaging with a page);
Lost revenue for eCommerce sites;
Decreased search engine rankings;
Conversely, if your eCommerce product pages load in less than two seconds, you can expect your users to experience fewer barriers to purchasing, as well as better search engine visibility and increased revenue. You can check the page load speed for free here.
If you are concerned about your page load speed, there are steps you can take to reduce the amount of time it takes to load. You can compress and optimize your images, reduce the number of plugins your website uses, or you can select a better website host. If you are concerned about your page speed, reach out. We will gladly help you reduce your page load speed to optimal levels – so you can focus on running your store.
Ensure It's Easy to 'Add to Cart'
Imagine walking into a (physical) retail store. You find the exact item you want, the price point is great, you have tried it on for size, and you are ready to purchase – only, you cannot find the checkout. That is poor store planning – and it is going to impact your sales, as well as your customer loyalty. Why would a customer come back to your store if it is inconvenient to make a purchase?
Your eCommerce product pages should be designed to make purchasing a breeze. A clear checkout is an essential part of a seamless purchase process.
On your product pages, the 'Add to Cart' button should be highly visible and located beside the product imagery at the top of the page. The button should be a different colour to the text and background around it, and it should be relatively large.
Similarly, the cart should be easy to find and easy to manage. The total price should be apparent, and it should be easy to add discount codes – if that is something you offer.
There is no reason for online shoppers to experience any barriers to making their purchases. If there are, it is likely that your eCommerce store will not perform to its fullest potential.
Information is Instrumental in the Sales Process
The information you need to include to sell your products will vary depending on the type of product you are selling. For clothing, it is essential to include sizing details and what the product is made from. For beauty products, ingredients are key.
Whatever you are selling on your eCommerce store, it is important that your potential customers have access to all the information they need to make their decision. Share the benefits of buying your product, as well as the right amount of technical information (tailored to your target audience). Finally, do not be afraid to make changes if you are not seeing results.
Provide Social Proof In the context of an eCommerce store, social proof refers to the ways a user can see that other visitors to your store have purchased your items (and not regretted that purchase). Testimonials, influencer marketing, brand ambassadors, reviews, and social media tags are all examples of eCommerce social proof.
The value of social proof is exceptionally high for eCommerce stores. That is why you see many apparel eCommerce stores offering visitors a 5-10% discount on their next purchase if they post a photo review of their purchase.
If your eCommerce store does not offer any social proof to visitors to your site, you risk missing a substantial number of purchases. And the more social proof you offer, the better.
In the early stages, you will likely need to incentivize customers to provide a review. Display these early reviews prominently on your pages.
As time goes by (and more customers have purchased your products), you can start to display the number of reviews instead of highlighting one or two. Just be careful to not try to hide bad reviews. This practice can land you in legal hot water.
Nail Navigation
More than once, we have come across websites where navigating using the back arrow (circled in yellow in the image below) caused items which were just added to the cart to be removed from the cart. That is not ideal since any barrier to making a purchase can be cause for a user to either not make that purchase or to leave the website altogether.

It is essential that navigating your website is seamless and simple. Here are some best practices for navigation in your eCommerce store:
Include broad categories in the navigation bar at the top of the page.
Have a prominent search bar – and include predictive search options.
Make it easy to access sub-categories of your products.
Do not try to 'shake up' navigation. Stick to what your users know and are used to on other stores.
Create a new arrivals category, as well as separate categories for sale items and popular items.
Filter functionality is crucial!
Navigation is different on mobiles and tablets compared to the desktop. You should optimize navigation for visitors using different devices.
Make it easy for users to 'Shop the Look.'
Finally, your users should be able to use any of the navigation options available to them without it ever impacting the cart.
Show Similar Items
Your user will click a product on your eCommerce store based on a photograph and (maybe) a brief description. Once they enter the product page, they have access to much more information about the item – and some of those details may turn the visitor off that product. Perhaps it contains animal by-products, and the shopper is vegan, or maybe it is not available in their size.
Whatever the reason, you already know that your visitor is interested in items like the one they have clicked on. By showing related items on your product pages, you are enticing them with products you already know they are considering – which can help to increase your sales.
More than this, it just makes sense. You want your visitors to have access to all the information they need – and giving them easy access to similar items helps them to make comparisons and, ultimately, make the purchasing decision that is right for them.
Need Assistance with Your Ecommerce Store?
Sitewyze builds beautiful and functional eCommerce stores for clients across Canada.
We review your online store with you to establish goals and identify your ideal target market, and then build your website with them in mind. Once your site is online, we market, market, market!
Professional designed and built custom website
Google Analytics Advanced Certified professional home page content copy
Home page formatting to optimize user experience when interacting with your storefront
Setup of online store including shipping rates, applicable taxes, etc
Connect with your online payment processor, or ask us for our favourite recommendation
Manage orders, client invoices, inventory and more with our complete e-commerce package
PLUS one full year of free website hosting and management!
Ask us how to link your online store to social media platforms like Facebook and Instagram!
"Written in conjunction with Stephanie at Obiter Marketing"