7th Annual Blue Ridge Family Fun Day hosted by Woodlands County – well worth the early Saturday morning road trip to get there!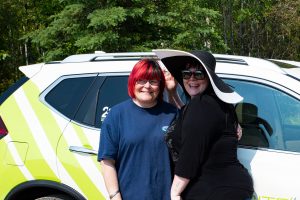 If you made it out with us last Saturday – thanks!! We love supporting our local communities and we know that you do too! (Side note – if you missed it, don't worry! We'll be in both Fox Creek and Valleyview over the next 6 weeks, so keep an eye out for those event dates too!).
A giant THANKS to Heather Anderson for the invite and for making space for Lexi (our sales-mobile) right up front, giving us the perfect opportunity to make sure all the kiddos and their families had their cool popsicle sugar fix right at the gate – instant smiles to start the afternoon!
What is it about Blue Ridge?
The Blue Ridge Recreational Park is a beautiful, reclaimed gravel pit managed by Woodlands County just outside of Whitecourt. It boasts walking trails (great for snowshoeing in the winter!), man-made ponds, a boat launch, quaint wooden bridges over crisp, rustling creeks, picnic tables, and tons of space to relax and play… A photographer's dream, and this city girl's Saturday morning escape (I won't lie… I did sneak a quiet few moments sitting on a permanent bench out on the dock before the crowds came; a little piece of heaven, watching fish jump and break the water all across the pond).
You can learn more about Blue Ridge on the Woodlands County website, here >
Family Fun Day
Woodlands County has hosted this Family Fun Day for 7 years in a row, and our gracious, hardworking, never sitting (except for a quick fudgsicle during a 2 second lull) Heather has been organizing it with her team for the last three, and what a great job they did! We were met with a flurry of tents going up with interactive displays, face painting, free hotdogs, cookies and watermelon, horse carriage rides, canoeing (with various life jacket sizes available), drumming, and so much more. And don't forget guest appearances by Olaf from Frozen, and Marshall from Paw Patrol! (Don't worry – the popsicles we brought kept Olaf from melting in the beautiful sun!)
We were met by people from as far away as Ontario who were out visiting family, Edmonton, Calgary and Vancouver – all were welcome to join in the festivities!
Thanks again, team, for a fantastic day, and for letting us be a part of it! We  hope to be there again next year!